Science of the Slide
Sunday, April 21, 2024
The UNI Trombone Studio will host this one-day event that focuses on trombone performance and pedagogy. Events will include masterclass, Q&A session, and a recital performance by our guest artist. Open to middle school and up. Registration for this event is FREE. Registration deadline is Friday, April 19 at 5 p.m. 
Complete the form below to register! Please contact Anthony.Williams@uni.edu to learn more.
2024 information coming soon! See below for 2023 info for reference. ​
Guest Artist
Jeremy Wilson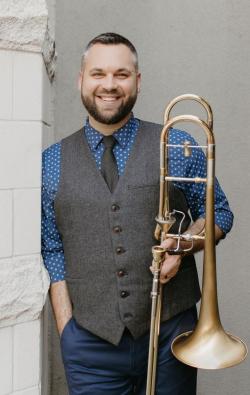 Trombonist Jeremy Wilson is acclaimed for the versatility and lyricism of his playing as well as his insight and commitment as a teacher.  He was appointed Associate Professor of Trombone at Vanderbilt University Blair School of Music in 2012, and has since built one of the premiere undergraduate trombone programs in the US.   A champion of new music, he has commissioned or premiered over 30 pieces for trombone since 2016, recording many of these works on his two albums, Perspectives (2018) and For the Beauty of the Earth  (2021).   He is the creator of the Body Mind Spirit Method, a holistic philosophy and process that aims to help musicians prepare and perform music more effectively and build careers that are fulfilling and sustainable through online videos and intensive workshops.