Low Brass Workshop
Sunday, March 24, 2024
The UNI Tuba/Euphonium and Trombone Studio will host this one-day event that focuses on low brass performance and pedagogy. Events will include masterclasses and performances by attendees, and guest artists. Open to middle school and up. Registration for this event is $15. Registration deadline is Thursday, March 21 at 5 p.m. Please contact Anthony.Williams@uni.edu to learn more. 
Information for 2024 coming soon! See 2023 information below for reference. 
Registration will open soon!
Guest Artists
Danielle VanTuinen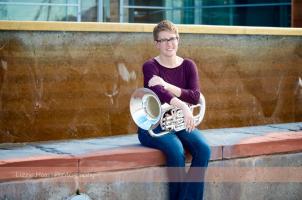 Danielle VanTuinen is a performer, educator, and entrepreneur based in Gainesville, Florida. She currently serves as Assistant Professor of Tuba and Euphonium and Director of the University of Florida Brass Band at the University of Florida. Prior to her current appointment, Danielle served as Lecturer of Music at Plymouth State University where she taught low brass methods, chamber music and applied lessons. She also served as low brass faculty at the Portland Conservatory of Music, adjunct staff for the marching band at the University of New Hampshire, private lesson instructor throughout northern New England, and low brass instructor for the Phoenix Youth Symphony. She has been invited to adjudicate at a variety of festivals, including the New Hampshire MEA Solo & Ensemble Competition, the Paul I. Willwerth Brass Competitions, the International Women's Brass Young Artist Competition, and the AETYB Young Artist Competition in Madrid, Spain. As a co-founder of the internationally acclaimed Moreau | VanTuinen Duo she has been invited to perform at the Spanish Association of Tubas and Euphoniums, Northern Arizona University, Ithaca College, the Miraphone Academy of the Southwest, the United States Pershing's Own Army Band Tuba-Euphonium Workshop, and the International Women's Brass Conference. Her commitment to expanding low brass repertoire has resulted in over 15 compositions by composers such as Steven Snowden, James Grant, Shaun Tilburg, and Etienne Crausaz. Danielle earned a Doctor of Musical Arts degree in Music Performance and Master of Music degree in Music Performance from Arizona State University, and a Bachelors of Music degree in Music Performance from Central Michigan University. Dr. VanTuinen proudly endorses S.E. Shires and the Eastman Music Company.
Jason Hausback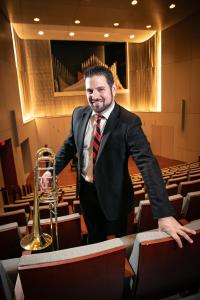 Dr. Jason Hausback serves as the Associate Professor of Trombone at Missouri State University.  In addition to maintaining the trombone studio, he directs the Jazz Studies Ensemble II.  Prior to his arrival at MSU, Jason was active as a teacher and a performer in the Dallas/Ft. Worth area, teaching low brass at Eastfield College (Mesquite, TX), and Brookhaven College (Farmer's Branch, TX).  While at North Texas he was both a classical and jazz Teaching Fellow and directed the U-Tubes, who won the 2010 Eastern Trombone Workshop National Jazz Trombone Ensemble Competition.  He also issued their first CD entitled "The U-Tubes" in the spring of 2011.  Additionally, Jason was a member of the internationally-acclaimed One O'Clock Lab Band and was on the recording "Lab 2009," which was nominated for two Grammy awards.
In 2008, Jason was the winner of the Eastern Trombone Workshop National Classical Bass Trombone Solo Competition, as well as the ITA Kai Winding Jazz Trombone Ensemble Competition.  His trombone quartet "Bell Street Four" also won the 2008 ITA Quartet competition.  Additionally, he enjoys travel and has had the opportunity to perform across the United States, as well as in Canada, Bolivia, Peru, Colombia, Argentina, Brazil, Spain, Austria, Germany, Italy, Switzerland, France, the Netherlands, England, Finland, and Thailand.
Jason is active as a freelancer throughout the mid-south region of the US and performs regularly with The Lone Star Wind Orchestra (TX), Symphony of Northwest Arkansas (AR), The Ozark Lyric Opera (MO), Ionic Brass Quintet (OK), and Fountain City Brass Band (KS).  He has filled in with several notable orchestras including the East Texas Symphony, The Tulsa Symphony, The Kansas City Symphony, and the Dallas Opera Orchestra.  He has performed solo and quartet recitals at universities and conferences throughout the US as well as in Colombia and Spain.  He has also performed in the Southeast Trombone Symposium Professors Choir and in featured ensembles at several different International Trombone Festivals. 
Faculty Artists
Anthony Williams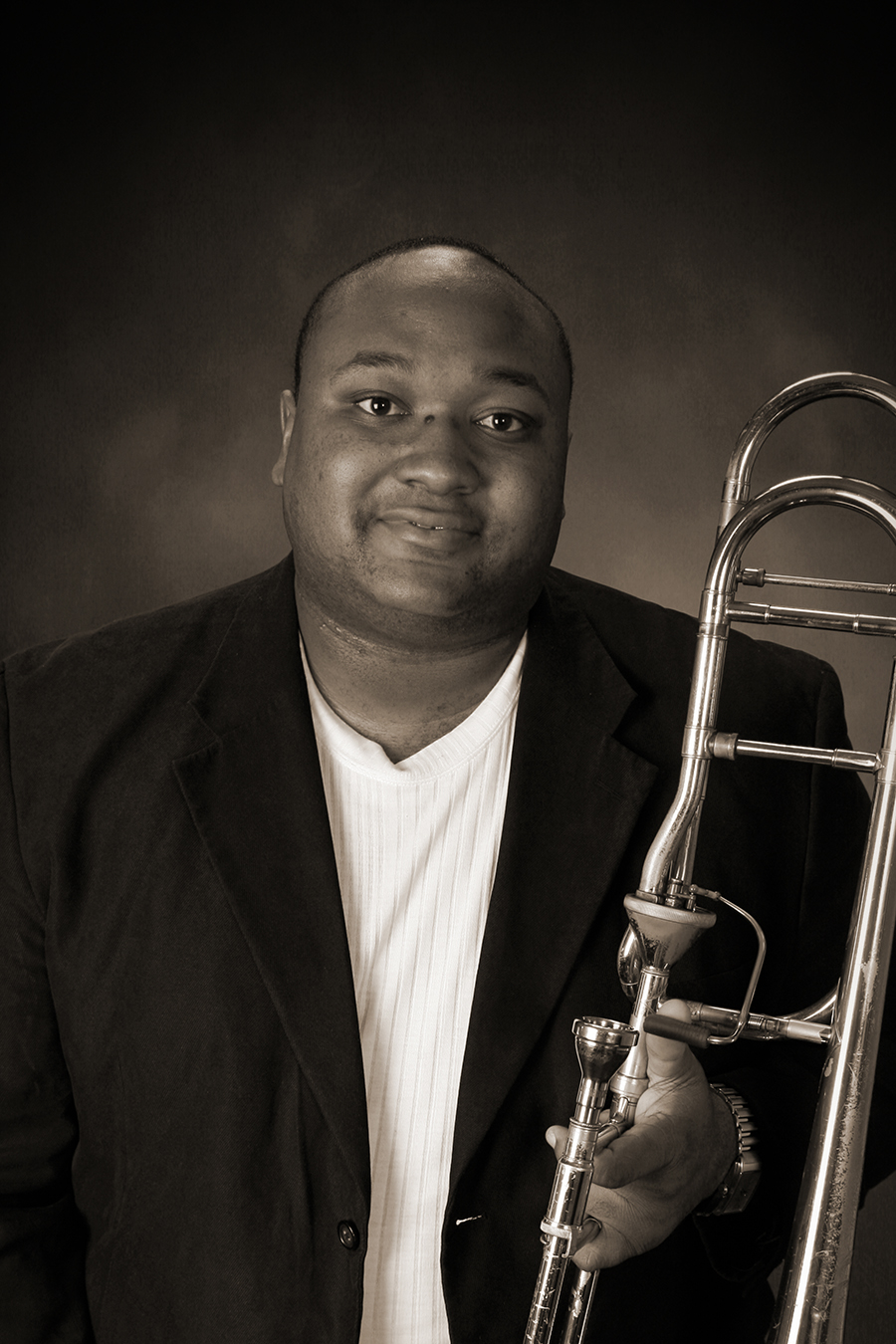 Anthony Williams is Associate Professor of Trombone at the University of Northern Iowa. He teaches courses in applied trombone, chamber music, trombone pedagogy, trombone literature, and low brass techniques. He also serves as a member of UNI's jazz faculty by teaching courses in applied jazz trombone and directing the UNI Jazz Trombone Ensemble.
 Dr. Williams maintains a high frequency of performing in classical, jazz, and new music settings. His debut solo album, "Synthesis," is a collection of five newly-commissioned works for solo trombone scored with various ensemble settings that combines classical, Latin, and jazz music. Other recent recordings include Dr. Williams performing as lead trombonist with the Mike Waldrop Big Band on recently released albums, "Origin Suite" and "Time Within Itself." Additional recording credits include "Grosso for Trombone and Electronics" for Mexican-born composer, Jorge Sosa's album, "Plastic Time," and albums by UNI alums Ryan Middagh and Dave Lisik.
He is principal trombonist of the Waterloo-Cedar Falls Symphony and performs regularly with other orchestras in the region. His current jazz and commercial music performance activity includes appearances with local and regional groups such as The Des Moines Big Band, Orquesta Alto Maiz, NOLA Jazz Band, Big Fun, and many others. Dr. Williams' past experiences include engagements with the Memphis Symphony, Memphis Jazz Orchestra, Ray Charles Orchestra, Arkansas Symphony, Dirty Dozen Brass Band, Natalie Cole, and Aretha Franklin.
He is a member of the International Trombone Association and the Jazz Education Network.
Brett Copeland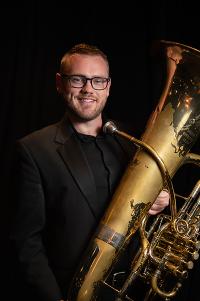 Dr. Brett Copeland is a tuba player, educator, composer, and music technologist that holds the position of Instructor of Tuba and Euphonium at the University of Northern Iowa. He previously held the position of Adjunct Lecturer of Tuba and Euphonium at the University of Texas at Tyler while living in Dallas and teaching a private studio of low brass students. He's maintained an active performance career playing with groups such as: NewStream Brass, the Dallas Brass Band, Flower City Brass, Symphoria (Syracuse, NY), the Buffalo Philharmonic Orchestra (Buffalo, NY), and has held the position of Principal Tuba with the Venice Symphony (FL), Ash Lawn Opera (VA), and the South Shore Symphony Orchestra (FL).
Brett's artistic endeavors extend beyond performance, as he recently co-authored "The Creative Listener" with other members of NewStream Brass (Dr. Dakota Corbliss, Dr. Derek Ganong, and Dr. Austin Seybert). The Creative Listener is an innovative method book aimed at providing a resource for music educators to teach audiation and improvisation concepts effectively. Furthermore, his passion for composition shines through his acoustic and electro-acoustic works such as: "Yesterday, I Woke Up Sucking a Lemon," featured on the album recorded by NewStream Brass in 2022, Sorrowful Songs for bass clarinet and electronics (arr. Copeland); harbor for bass clarinet, tuba, and electronics (both written for and premiered by Alexander W. Ravitz at the CMS South Central conference in Spring '23); and two original works for trombone, tuba, and electronics, written for and recorded by Dr. Austin Seybert also in the spring of '23.
Brett earned a DMA in Tuba Performance and Literature with a Certificate in Arts Leadership from the Eastman School of Music ('20) where he was a Teaching Assistant for both the Tuba Studio and the Eastman Audio Research Studio. His primary teachers have been Don Harry, Jay Hunsberger, and Dr. Jeff Funderburk.
Low Brass Workshop - Registration